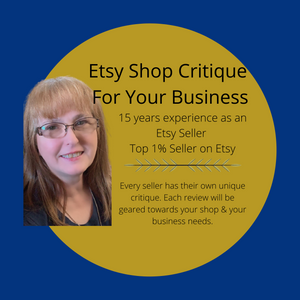 Etsy Critique for your shop.  We offer one on one help for Etsy Shop Owners.  
Do you own an Etsy Shop but it doesn't seem to be going anywhere?  I would like to help.  I have been selling on Etsy since 2006 and have sold over 20,000 items.  Let me help show you some of the tools that I use and still use today to turn a hobby into a full time business. 
You will receive a one hour coaching call from me.  A One On One live zoom call walk through of your business.  You will need to be in front of your desktop computer during the time of the call.  The call is tailored to you and your business... how you want it to be.  
The session will be 60 minutes.  15 minutes before your appointment I will review your online shop and pinpoint areas, based on my experience, that I think need the most attention. 
Please use this link to complete your purchase and schedule / obtain your one on one zoom coaching call link. 
Please contact me prior to purchasing if you have any questions. 

Thank you.