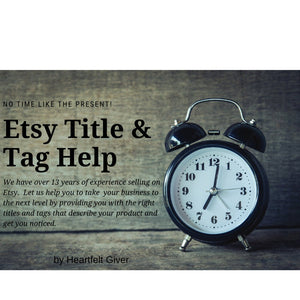 This listing is providing you with a title and 13 tags for one product listing /item you are selling. Your title and tags are important for Search Engine Optimization (SEO) no matter the selling platform. Also your title is the first thing a customer reads while viewing your photo. You need a title that not only grabs the attention of the web but also grabs the attention of the potential customer.
You will need to provide the name of the Etsy Listing Link and/or information regarding the listing you wish the title and tags for review within the purchase. 
We cannot guarantee how your listing will rank on Etsy or on the internet. Title & Tags are just two of the many factors that go into getting one's product / item seen on the 1st search pages, but good titles and tags are a step in the right direction. Your listing title and tags will be sent to you via Etsy Messaging/Email System within 5 business days. No physical item will be shipped. Again, one title and 13 tags will be sent via Etsy message / email. Since this is a custom item we DO NOT offer refunds.